How to cut unemployment: tax credit for employers who hire?
A tax credit to spur hiring can help trim unemployment, say experts, but comes with a heavy price tag. The revenue loss for a 1977 scheme was $5.7 billion.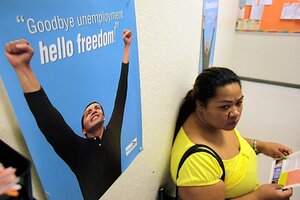 Paul Sakuma / AP
The last time the US gave business a tax credit to hire workers was 1977 when Congress became frustrated over the stubbornly high 6.4 percent unemployment rate.
Now, with the nation's unemployment rate nearing 10 percent, there are reports that Congress might try a revamped version of what was then called the New Jobs Tax Credit (NJTC).
One version of such a tax credit is being prepared by economists at the Economic Policy Institute (EPI), a labor-friendly think tank in Washington, where Jared Bernstein, Vice President Biden's economic advisor, sat for many years.
This version would give a two-year tax credit that is refundable against payroll taxes so that non-profits, corporations, and even public employers would get the credit, says Ross Eisenbrey, a vice president at EPI. He says the authors of the EPI proposal calculate that the tax credit would create 2 million to 3 million jobs.
"Obviously, the goal is to create as many jobs as possible," says Mr. Eisenbrey. "We are still working on the cost per job."
New Jersey has enacted a version of this tax credit, giving employers a $3,000 grant for each new full-time job created and maintained in the state.
---