What will it take to bring back 7 million jobs?
With job losses this recession the worst since the 1930s, government stimulus can only do so much.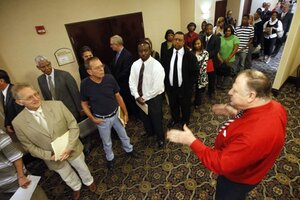 Steve Helber/AP
A growing political debate over how to revive the job market has its roots in a very basic predicament: Jobs disappeared during the recession on a scale not seen since the 1930s.
Worry about a "jobless recovery" needs to be understood in this context. If employment recovers slowly this time – as it did after the past two US recessions – it would be a much bigger problem than it was following slumps in 1991 or 2001. That's because there's a much bigger hole to fill.
More than 5 percent of US jobs have disappeared since the recession began in 2007, some 7 million in all. That compares with job losses in the neighborhood of 1.5 to 2 percent during the previous two recessions.
No wonder there's a lively discussion in Washington about whether the $787 billion stimulus plan is working and whether new tax credits or other policies could create jobs.
"It's probably going to be at least as difficult as the prior two jobless recoveries," says John Silvia, chief economist at Wells Fargo Securities in Charlotte, N.C. "It is very, very challenging."
Not every forecaster believes job growth will be tepid over the next year or two. But the big risk is a worst-of-two-worlds outcome: That massive job losses – the kind last seen decades ago – will be coupled with the kind of lackluster rebound seen in more recent times.
How long to get back to normal?
The goal is not just to get those 7 million jobs back. First, the economy needs to stop losing jobs – a corner that may be turned early next year. By some estimates, the economy must then add about 125,000 jobs a month, or 1.5 million a year, to keep up with the natural rate of growth in the labor force.
What does that mean for getting back near a 5 percent unemployment rate?
---