Obama: give seniors an extra $250 each
The payments would be similar to the checks that Social Security retirees and others received in May as part of the economic stimulus legislation.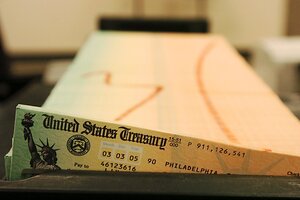 Bradley C. Bower/AP/File
Concerned about Social Security recipients, veterans, and people on disability payments struggling to make ends meet, President Obama is asking Congress to send them each a $250 check next year – similar to the checks they received in May as part of the economic stimulus legislation.
For the average retiree on Social Security, it would be the equivalent of getting a 2 percent increase in benefits. In total, the White House would like to give the money to some 57 million Americans, including individuals on Supplemental Security Income, railroad retirement and disability beneficiaries, and public-employee retirees.
"The president thinks in the light of economic conditions we face, it is appropriate we continue the benefit, and he calls on Congress to pass it," said a senior administration official Wednesday, briefing reporters.
The payments would cost $13 billion, the White House estimates. But Mr. Obama does not want the money to come out of the Social Security Trust Funds, said the senior official, who spoke on condition of anonymity.
"We generally think programs should be paid for," said the official. "We plan to work with Congress to discuss financing, but we are not insisting it be paid for."
If the potential program is not financed by cutting another program or raising a fee or tax, it would increase the budget deficit, which is currently estimated to be $1.17 trillion for fiscal year 2010.
The White House did not specify when the payments would be made if Congress agrees to them. "We don't have a specific timetable," the senior official said.
The White House decision to ask for the $250 payments comes just before a scheduled announcement Thursday that for the first time, Social Security recipients will not receive an automatic cost-of-living adjustment (COLA) next year. That's because inflation declined from the third quarter of 2008 to the third quarter of this year.
---