Bosses Day 2009: Is your boss tops?
For Boss's Day 2009, who are America's best bosses?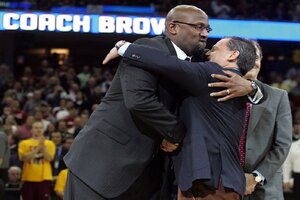 Phil Masturzo/Akron Beacon Journal/MCT/File
Tomorrow is Bosses Day 2009. And has it ever been tougher to be top dog?
Managing cutbacks, squeezing the last dime out of budgets, and generally playing bad cop more than good hasn't gone unnoticed in offices across the country: Almost two-thirds of America wouldn't take their bosses' job if they were asked.
So which bosses are truly leading the way in these roiling economic times? The top combine several attributes. First, the best bosses are the guys and gals keeping new contracts (and thus more profits) coming through the door. Second, bosses need a deft management touch. Third, in a time when "business ethics" is almost always written in quotes, the best bosses have shown ethical insight during their tenure at the top.
We've listed below a few CEOs we think qualify for the top ranks, but we'd really like to hear what you think. Tweet us, e-mail us (grantd@csmonitor.com), or post a comment below to tell us about your boss – whether middle manager or corporate don – and we'll get back to you tomorrow with some of America's best.
•Stille family, owners of Nugget Market: In 81 years, not a single layoff for this West Coast gourmet supermarket chain.
---