Bank of America's Ken Lewis takes pay cut, but no one follows
Although CEO Ken Lewis agrees to a $0 pay package, don't expect a wholesale revolution in executive compensation on Wall Street.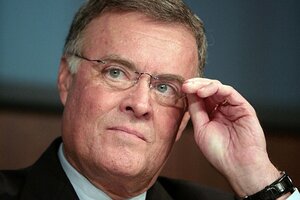 Bebeto Matthews, file/AP/FILE
Nudged by the Obama administration, at least one of America's top bankers is taking a big pay cut this year. Kenneth Lewis, CEO at Bank of America, will get a salary and bonus totaling zero.
That doesn't mean, though, that a wholesale revolution in Wall Street pay is under way.
Not in a hurry, at least.
Mr. Lewis agreed to the $0 pay package based on a recommendation by Kenneth Feinberg, President Obama's "pay czar" for bailed-out firms. In coming days, Americans will learn more about whether Mr. Feinberg will ratchet down pay levels at some other big companies. But his official powers are limited to seven firms that received special bailouts from the federal government: Bank of America, AIG, Citigroup, General Motors, Chrysler, GMAC Financial Services, and Chrysler Financial.
Beyond that, some signs suggest that it's back to business as usual when it comes to pay.
This week Goldman Sachs, the richest Wall Street firm, said its compensation totaled $5.4 billion in the third quarter. That works out to about $170,000 per employee, on average, for those three months. According to The Wall Street Journal, major US banks and securities firms are on course to pay a record $140 billion this year in compensation.
---
Follow Stories Like This
Get the Monitor stories you care about delivered to your inbox.