ECONOMIC SCENE: $4 a gallon gas? Peak-oil experts say yes
Gas prices will soar as oil production peaks, then falls.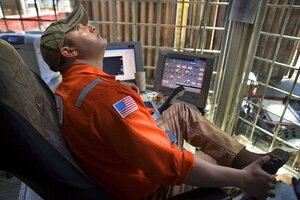 Bob Fila/Chicago Tribune/MCT/File
Get ready for $4-a-gallon gasoline.
That's the forecast of adherents of the "peak oil" thesis, the idea that oil production has flattened and will decline because of economic, geological, and technical restraints. Once considered a fringe theory, peak oil has become mainstream thinking in the oil industry in the last six months, says Steven Kopits, who runs the New York office of Douglas Westwood, an energy analysis firm.
So what about all those new oil finds – some 200 announced on five continents this year – including BP's giant discovery in the Gulf of Mexico last month? Development of such new fields, many deep under the ocean, takes years and will only help offset the decline in oil production elsewhere, analysts say.
What about a boost in Iraq's production from 2.5 million to 6 million or even 8 million barrels per day (b.p.d.) if all goes well in that country? Rising world demand will easily outstrip that gain.
Biofuels? Canadian oil sands? Ditto.
"In the next few years the supply [of oil] will tighten and this will lead to higher prices," says David Bowden, executive director of the Association for the Study of Peak Oil & Gas-USA (ASPO-USA) in Denver.
Rising energy prices will have a profound impact on the economy and the American way of life, peak-oil enthusiasts say. Higher prices could even lead to a seesaw economic recovery, some argue. If oil prices rise much higher, the economy will slow down again until the demand for oil is curtailed, pushing prices lower once more. Then the economy could surge forward again. And the pattern could repeat.
---