Outlook for Fannie Mae, Freddie Mac still troubled a year later
Fannie Mae and Freddie Mac remain insolvent, and their share prices could fall to zero, one private-sector investment firm concludes.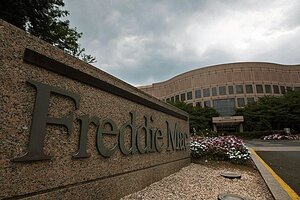 Pablo Martinez Monsivais/AP
Even after gobbling up $98 billion in government relief since last year, mortgage giants Fannie Mae and Freddie Mac remain deeply insolvent.
That conclusion, issued Monday by one private-sector investment firm, underscores the difficult choices facing Congress as it tries to extricate the US from a housing-market bust.
America is relying on these two entities to bail out the troubled housing market, yet Fannie and Freddie have needed bailouts of their own.
Analysts at Keefe, Bruyette & Woods in New York outlined what they see as a likely outcome for current investors in these government-sponsored enterprises (GSEs): share prices falling to zero.
This doesn't mean Fannie Mae or Freddie Mac will go out of business. The government can't afford to let that happen, financial experts say, because mortgage markets would break down. These two firms end up owning or providing a guarantee on most US home loans. But as the losses on bad GSE-backed loans mount, Congress is being forced to weigh what to do.
Policymakers are considering how to navigate out of the current mess of defaults, foreclosures, and falling home prices. But equally important, housing experts say, the system must be reset so the goal of stable mortgage markets can be achieved without placing huge risks on US taxpayers.
---