Michigan town's resolve to take Guantánamo detainees wavers
Standish, Mich., is dependent on its prison, which is about to close. It says it still wants the Guantánamo detainees to fill the void, but opponents are pushing to recall members of city council.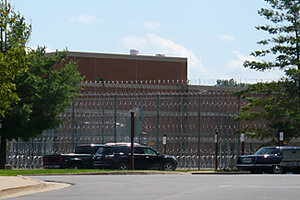 Yvonne Zipp
A Michigan town may be waffling on welcoming Guantánamo Bay detainees.
On Monday, the Standish City Council passed a unanimous resolution expressing interest in having a federal prison at the Standish Max Correctional facility, slated to close Oct. 31 due to budget cuts. But the resolution stripped out all reference to the detainees currently being housed at the US base in Cuba.
While some reports have interpreted the change in language to mean that the welcome mat has been officially yanked, the community 120 miles north of Detroit is not ruling out taking the more than 200 detainees, says Ruth Caldwell, vice president of the Standish Chamber of Commerce.
"[The City Council] watered it down a little because a few people don't want it and have been very vocal, but they did pass it last night," says Ms. Caldwell, who owns Pleasantries gift boutique. And the motion "states we're in favor of a federal option."
President Obama has said he wants to close the facility at Guantánamo by year's end. The prison at Standish, which can hold about 600 inmates, is reported to be one option the federal government is considering. Another is Fort Leavenworth in Kansas, home of the military's only maximum-security prison.
---