Lost your job? Documentary details layoffs' sweet side
Layoffs hurt. But "Lemonade" tells the story of job losses that turned into more fulfilling careers.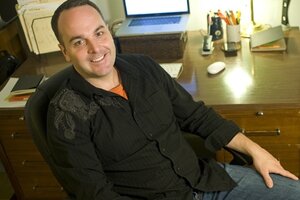 Sarah Beth Glicksteen/The Christian Science Monitor
Even though everyone at his Boston advertising agency knew layoffs were coming, Erik Proulx was still shocked when he lost his job as senior copywriter last October.
With no steady salary and lots of free time on his hands, the 30-something husband and father of two fired up his computer, created a website, and began blogging about his experiences. "I've heard so many people express some kind of despair after losing their jobs. I was one of them," Mr. Proulx says. "It was important for me to discover in myself that this could be the best opportunity of my life – with the right attitude."
Soon his website (www.pleasefeedtheanimals.com) was attracting hundreds of laid-off ad professionals who contributed their own experiences of creative projects they'd undertaken. Proulx was so intrigued by their stories that he ended up creating a 40-minute documentary about life on the other side of layoffs. In a strange twist of life imitating art imitating life, Proulx found fulfillment in unemployment by filming the stories of people who found fulfillment in unemployment.
"I've been exercising this belief that I have that when you do what you love, money just seems to fall in line," Proulx says. "That's fairly cliché, but it's the truth." In its final edits, the film – called "Lemonade" – has been sent to judges for the Sundance Film Festival.
"Lemonade" revolves around the lives of Proulx and 15 others who were laid off from the ad industry. Instead of focusing on how unemployment crimped their lives, the film looks at how their unexpected downtime
allowed them to follow lifelong passions.
---