GDP report: Economy grows after a year of contraction
US economy grew 3.5 percent in the third quarter, according to GDP report. But it will be months before the economy adds jobs, economists forecast.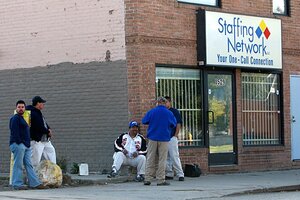 Carlos Osorio/AP
The US economy has begun to grow again, but forecasters say it will be months before this translates into growth where it counts most – in the number of jobs.
America's gross domestic product rose in the third quarter at a 3.5 percent annual rate, the Commerce Department reported Thursday. That solid pace follows four straight quarters of decline in GDP – the longest sustained contraction in 62 years of record-keeping. By most accounts, the recession that began in December 2007 is over.
But what comes next?
Many economists say consumer spending is starting to regain its footing, meaning that growth will be sustainable and not dependent merely on the massive fiscal stimulus enacted this year by the Obama administration. But they say the rebound could be slow, producing only tepid job creation.
"The recovery in output continues to be unaccompanied by a recovery in jobs," economists at IHS Global Insight said in a forecast this month. "We ... expect that firms will have to re-hire sooner after this recession than after the 2001 one. But we still do not expect to see private employment turn decisively higher until the second half of 2010."
In fact, Global Insight predicts that GDP growth will be cooler in the fourth quarter (a 2.6 percent growth rate) and first quarter of next year (1.8 percent growth) than it was this summer.
Similarly, economist Paul Kasriel at the Northern Trust Co. predicts that a full year will go by before the US sees another quarter with growth topping 3 percent.
---