Economic stimulus: which states have gained the most jobs
The White House says the economic stimulus accounts for 640,000 jobs. But the picture is mixed across the US.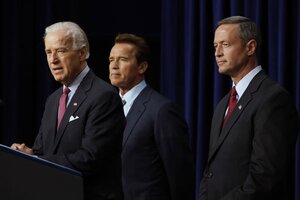 Jason Reed/Reuters
Some 640,000 jobs exist nationwide as a direct result of the government's record economic stimulus program, the Obama administration reported Friday.
The White House released a detailed tally, allowing Americans to see how many jobs have been saved or created in their own state or ZIP code. California and North Carolina were among the states reaping the most jobs so far, on a per capita basis. Both those states have higher-than-average unemployment rates, and the administration highlighted this pattern.
"The Recovery Act is creating jobs where they are needed the most," White House economist Jared Bernstein said in a report accompanying the data, which are viewable at http://www.recovery.gov/Pages/home.aspx.
According to the Christian Science Monitor's initial review of the data, the White House report found that $159 billion in stimulus spending is providing nearly 2100 jobs for every million people in the country. That number, again, reflects direct impacts reported by states and businesses receiving the money.
---