Big winner on economic stimulus and jobs is ... Puerto Rico?
The island territory has been able to add a high number of new jobs per capita. But the stimulus comes at a time of political struggle between public and private labor in Puerto Rico.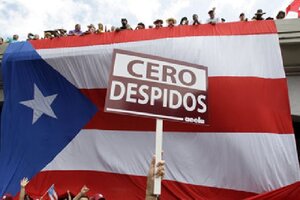 Andres Leighton/AP
Not having a voting member of Congress doesn't seem to have hurt Puerto Rico in its quest for jobs and economic recovery.
In the middle of a four-year-long recession, the self-governing US territory has managed to add 17,000 new jobs for a grand total of over 4,000 per million residents, putting the Puerto Rico third behind Washington and Montana in jobs created by the federal stimulus bill, according to a Monitor analysis of new stimulus figures released by the White House.
President Obama on Saturday morning pointed to the success of the $787 billion stimulus program, saying it has "saved or created" about 1 million jobs from Alaska to, well, Puerto Rico.
"As I've said many times, it took years to dig our way into the crisis we've faced. It will take more than a few months to dig our way out. But make no mistake: that's exactly what we will do," the president said in his weekly radio address.
To be sure, the success of Puerto Rico's stimulus effort backs up the White House's promises of fairness and lack of political patronage in doling out grants. But beyond the macro-economic news, the figures also shed some insight into the package's transformative powers and how the Puerto Rico model could well test Washington's ability to fundamentally change and improve local, state, and regional economies.
---