Dodd bill aims to simplify the patchwork of bank regulation
Sen. Christopher Dodd introduced a bill in the Senate Banking Committee Tuesday aimed at tightening bank regulation. Critics of the current system say regulators are too cozy with bankers now.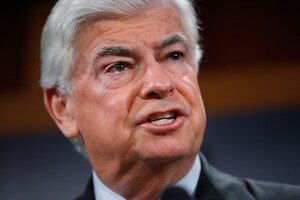 Charles Dharapak/AP
Key senators weighed in Tuesday on how to make the US banking system safe for Main Street.
A plan unveiled by Sen. Christopher Dodd (D) of Connecticut would simplify what is now a patchwork of bank regulators. It would strengthen oversight of risky activities such as the market for so-called derivative securities. And if a large bank gets into trouble, the plan calls for a controlled shut-down – not a taxpayer-funded bailout.
Financial experts widely agree that a regulatory overhaul is urgently needed. Senator Dodd introduced his plan in the Senate Banking Committee, which he chairs. The White House has made its own proposals, and the House Financial Services Committee has its own plan.
The question is whether any of the proposals will tame problems that helped create the deepest recession since the 1930s. These problems spanned from risky mortgage products to a failed regulatory climate created by both Republicans and Democrats in Washington.
Bankers have political clout
---