What's behind rising oil prices?
A weak US dollar has sent investors to oil, pushing up crude prices over the past few months. That means higher gasoline prices this Thanksgiving.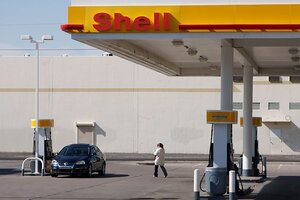 Joshua Lott/Reuters
Just before the next major driving period – those Thanksgiving trips to see family and friends – the price of gasoline is climbing.
Behind the rise in gasoline costs – up by about 18 cents a gallon in the past month – is a resurgence in the price of crude. The price of oil climbed back toward its peak of more than $80 a barrel this morning before closing at near $79.
But the gyrations had little to do with fundamental supply and demand for petroleum, energy analysts say. Instead, they say, oil prices are moving in relation to the US dollar, which has been losing value all year. In this case, traders say, the weak dollar is boosting oil as a commodity that has some value.
"Look at the dollar, it's lost 16 percent of its value since March. That's the start of the rally in oil," says Mike Fitzpatrick, director of research at MF Global, a commodities broker in New York.
Some investors think the price of gold is inflated and they don't want to hold Euros so they are buying oil futures, says Mr. Fitzpatrikck. "So maybe … there will be stiff competition for [oil] once the global economy recovers."
Mixed signals coming from Organization of the Petroleum Exporting Countries (OPEC) are also adding to the choppy feel of the energy market, according to Phil Flynn, director of research at Alaron Trading, a Chicago brokerage house. "First the Saudis say customers can buy as much as oil as they want, then today they say maybe not," he says.
---