ECONOMIC SCENE: Social Security pensioners deserve a $250 'raise'
With no COLA adjustment this year, the Obama administration is right to give seniors a $250 boost.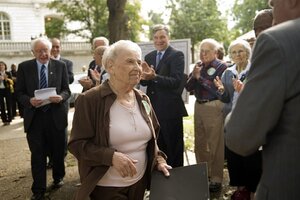 Roll Call/Newscom
Congress is likely to give Social Security pensioners a raise of sorts next year.
President Obama has proposed a $250 payment per pensioner, which is expected to pass Congress, speculates Andrew Biggs, a scholar at the American Enterprise Institute in Washington. Such a one-time payment is cheaper than conjuring up a cost-of-living-adjustment (COLA), which is unjustified since prices are falling, not rising. It also makes sense politically.
Relatively more seniors vote than those under age 65. Facing an election next year, it will be difficult for members of Congress, Democrat or Republican, to vote down a modest boost to Social Security benefits.
Mr. Obama made his $250 proposal the evening before the Social Security commissioner announced there would be no COLA in 2010, the first time there's been no rise in 35 years. If Obama had done nothing, many seniors "would hold that against his administration, even if the administration had nothing to do with it," says Mr. Biggs. Because healthcare reform might affect Medicare, Obama's political standing among seniors has been suffering.
It's not only necessary politics but proper policy that Washington heeds the needs of its 39.5 million senior citizens.
The US Social Security system is less generous than those in much of Western Europe. The American system assumes most seniors will have corporate pensions and perhaps personal savings and investments to help their retirement finances. But many companies have had trouble keeping up on pensions and 401(k)-type plans for their current or retiring workers. Moreover, with so much income moving to the richest 1 percent and middle incomes stagnating in the past decade or so, many of the elderly and near elderly are facing financial difficulties.
---