Record 9.6 percent of homeowners are behind on their mortgages
Job losses are driving more mortgage woes, as a record 9.6 percent of homeowners were delinquent in the third quarter, Mortgage Bankers Association reports.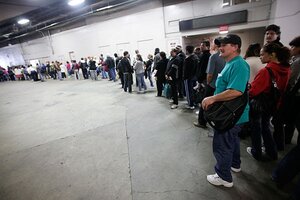 Marcio Jose Sanchez/AP
A record percentage of Americans are now late in paying their mortgages, according to the Mortgage Bankers Association.
On Thursday, the MBA said 9.64 percent of all loans were in delinquency in the third quarter. This is up from a record 9.24 percent in the second quarter and up from 6.99 percent only a year ago.
Although most economists believe the recession ended this summer, MBA chief economist Jay Brinkmann says job losses are the main reason for the deteriorating performance in mortgage payments.
"Job losses continue to increase and drive up delinquencies and foreclosures, because mortgages are paid with paychecks, not percentage point increases in the GDP [gross domestic product]," he said in a statement.
The rising level of delinquencies and foreclosures represents a threat to the economic recovery, says economist Richard DeKaser of Woodley Park Research in Washington. Problems in the housing market is one reason the Federal Reserve continues to hold short-term interest rates low, he notes. It's likely the problems will continue into next year, he says.
"Generally speaking, we usually see credit-market problems lag the economic fundamentals by up to a year," says Mr. DeKaser.
---