New Economy cities: Houston aims to move beyond the oil age
Houston is banking on its strong ties to the global marketplace and renewable energy to move beyond the oil age.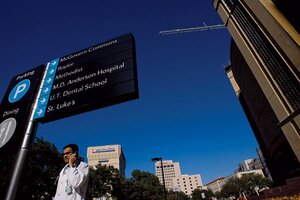 Johnny Hanson/Special to The Christian Science Monitor
The moment oil came spewing out of the Lucas No. 1 well at Spindletop on Jan. 10, 1901, Texas' economy was forever wrenched from its agricultural roots and thrust into the Industrial Age of the 20th century.
Today, nearby Houston is still riding the economic gusher produced by the major oil discoveries in the southeast part of the state. But as the world increasingly sees the need to switch from fossil fuels to renewable energy, Houston is pursuing the next "Spindletop" to blow it into the 21st century.
Many say the city is poised to do well because of its ties to the global marketplace. Houston is home to NASA, as well as the largest medical complex in the world, the second-busiest port in the nation, and a strong international business sector.
"We see our future over the next decade as playing to our strengths of the past while making them relevant today," says Jeff Moseley, president and CEO of the Greater Houston Partnership, a business group.
One example of how that works: This June when Vivante GMP Solutions, a biologics manufacturing company, set up shop here, it needed "clean rooms," areas with a controlled level of dust and other contamination. Area contractors could draw on expertise gained through decades of working for petrochemical companies. The clean room took shape, cheaply. "To me, Houston is the perfect intersection of old industry stepping up to advance leading-edge industries," says Vivante's founder and president, J. David Enloe Jr.
But Houston has much more than energy experience powering its future. It is the largest US port in foreign tonnage and the second largest in total tonnage.
---