California budget crisis spurs reform efforts
With a $20.7 billion shortfall expected over the next 18 months, the California budget crisis remains severe. Economic recovery may help ease the budget crunch, but many say true reform is needed.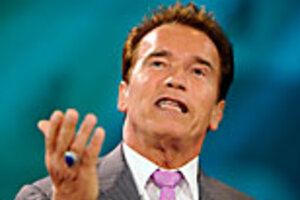 Reuters
California's slow and lackluster emergence from recession is prompting a wave of concern that the Golden State's glory days are gone for good – unless voters take action to address a dysfunctional governmental system.
Few disagree it's broken. California's finances are a perennial disaster; even after this summer's battle between Gov. Arnold Schwarzenegger (R) and the legislature to close a $26 billion budget gap, the Legislative Analyst's Office estimated this week that the state will run $20.7 billion in arrears over the next 18 months.
The state's bond rating hovers above junk status, and legislators' ability to fix budgets by raising taxes or cutting spending is hampered by voter initiatives.
California was hit hard in the downturn, and the economic pain is expected to linger longer here. It leads the nation in foreclosures, with 459,906 homes lost to banks since the start of 2007, according to real estate research firm DataQuick. It lost the most jobs in the past year – 732,000 – and its unemployment rate has climbed to 12.2 percent, the fourth highest in the US. The University of California system is coping with a 20 percent funding cut this year.
The state now spends more on prisons than on higher education, say some politicians. Last year, it spent $10 billion to house the country's largest prison population in a system so overcrowded that federal judges are threatening to force the release of 40,000 inmates.
---