The world's next boom cities
In an age of global commerce and culture, boom cities include Shanghai, China, and Mumbai as well as Istanbul, Turkey, and São Paulo, Brazil.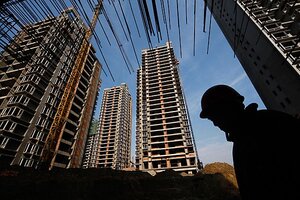 Reuters
If the last century was the age of economic globalization, expect the first half of this one to be the era of urbanization.
By 2050, 3 out of 4 people will be concentrated in major cities or massively urbanized regions, many of them climate-change refugees from exposed agricultural areas.
But as nations recover from the biggest shock to the global financial system since the Great Depression, a shift in economic power is already ensuring the next generation of truly great world cities will have a particularly Chinese and Indian feel. Straw polls of urbanologists inevitably throw in Shanghai and Mumbai (Bombay) as rising stars among a list of Asian cities expanding at a phenomenal pace. Others include names generally unheard-of to the average Westerner.
The southern Chinese city of Beihai, for example, has been identified as the world's fastest-growing metropolis, followed by the northern Indian city of Ghaziabad.
Economic factors are key to the shifts, of course, a reality that will help sustain Tokyo's significance, aided by the development of green technology. But other forces are important, too. "With Chinese cities, very clear and strong governance structures mean there is a clarity when it comes to their development," says Malcolm Smith, an urban designer at Arup, a global consulting firm, who worked on what the Chinese billed as the world's first low-carbon "eco city," near Shanghai.
---