Boomerang kids: recession sends more young adults back home
Lack of jobs, the cost of housing, and school bills mean 'boomerang kids' can't afford to live on their own. And in years to come they'll be paying for the cost of borrowing to bail out the economy, too.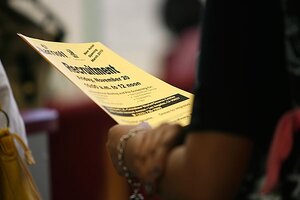 Mario Anzuoni/Reuters
If the recession is hitting young Americans hardest of all, the silver lining may be this: More of them don't have to travel very far to reconnect with their parents at holiday time. In fact, a new poll finds that, for a large number, the trip may not involve airports or bus terminals but just a walk downstairs.
Nearly 1 in 7 parents with grown children has had a child move back home with them during the past year, according to a Pew Research Center poll released Tuesday. The trend of young people becoming "boomerang kids," and returning to a not-so-empty nest, symbolizes something much broader: the way the recession is in many ways affecting young people more than other groups.
The social impacts of this recession span all ages, from retirees with smaller nest eggs to Michigan factory workers who are unlikely to build cars again. But the impact on 20-somethings is considerable:
• A smaller share of 16- to 24-year-olds are currently employed -- 46.1 percent -- than at any time since the government began collecting data in 1948, the Pew Research Center said in a report tied to its poll results.
• Some 1 in 3 young workers currently lives at home with his or her parents, according to a Labor Day report by the AFL-CIO federation of labor unions.
• Even as jobs grow scarce, education is getting more expensive. About 40 percent of young workers have delayed education or professional development due to financial worries, the AFL-CIO report found.
The economic impacts are obvious, but these trends also could have long-lasting social implications -- from anxiety at the ballot box to delays by young households in having children.
---