How charities survive tough times
Just like for-profit firms, philanthopies push for efficiency. Volunteers help, too.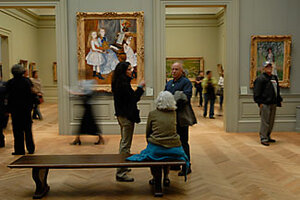 Mary Knox Merrill/Staff/File
America's charities have faced a tough 2009. By most accounts, 2010 will be worse. Donations are down and other sources of funding are drying up. Cultural institutions are among the hardest hit.
New York City's Metropolitan Museum of Art, whose fundraising efforts once focused on major gifts for new exhibitions and additional space, now appeals to donors merely to support operations. As donations fall, the load on service charities is rising. Despite a 6 percent decline in contributions this year, the Salvation Army is juggling a fivefold increase in demand for services.
Out of all this trouble, one positive trend has emerged: Charities are focused as never before on efficiency, cutting costs while maintaining services and finding new ways to survive.
"Nonprofits are certainly adapting and getting creative," says Kim Klein, author of the book "Reliable Fundraising in Unreliable Times." "I really defy any for-profit corporation to be as efficient and creative as a nonprofit."
Nonprofits have no choice. Donations are down 9 percent this year at the nation's top charities, according to The Chronicle of Philanthropy, an industry publication. Some 77 percent of charities let fundraisers go or cut fundraising spending.
---