After Black Friday comes Cyber Monday 2009. Is it more virtual than real?
Cyber Monday 2009 is not the biggest online shopping day of the holiday season. But if the hype continues, it could yet become just that.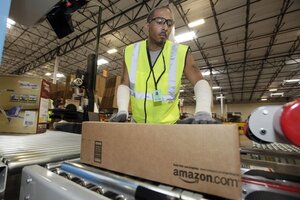 Ross D. Franklin/AP
First Black Friday, then Cyber Monday. Is all the media hoopla about frantic, sales-hungry shoppers at malls and at their desktops during an extended Thanksgiving weekend an accurate portrayal of consumers' holiday-shopping behavior? Or is it a reflection of what retailers wish were the case?
To be sure, retailers have expanded the weekend selling rush through so-called Cyber Monday, just as they have dialed back Black Friday store hours a bit further each year, now encroaching onto Thanksgiving night. The National Retail Federation, a trade organization representing 1.6 million retailers, says Monday is the kickoff to the online shopping season and a day when online sales spike.
That, however, may be more wishful thinking than a representation of consumer behavior. Each year since 2005, when the National Retail Federation (NRF) coined the term "Cyber Monday," sales on that day were dwarfed by sales dates later in December. Last year, for instance, Cyber Monday sales reached $846 million, while the biggest online sales day was Dec. 9, with $887 million, according to Permuto, which tracks online shopping trends.
Indeed, Cyber Monday originally described a potential trend: consumers returning to work the Monday after Thanksgiving who were still eager to shop but had no recourse to do so except online.
The recognition of Cyber Monday among retailers has been gaining momentum: The NRF reported that 87 percent of retailers will have special Cyber Monday promotions this year, such as free shipping or one-day sales, up from 84 percent last year and 72 percent in 2007.
Though retailers are pulling out the stops to cheerlead for holiday sales in a recession, boxing consumer trends into a preconceived shopping holiday does not pass muster when it comes to the ways consumers actually shop.
---