Dow loses 154 amid Dubai World woes, but it could have been worse
A sell-off on Friday drove Dow down 154 points, as traders took stock of postponed debt payment at conglomerate Dubai World.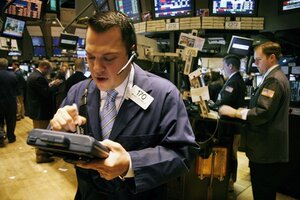 Peter Morgan/AP
On Wall Street, it was a blue day on Black Friday – the big shopping day after Thanksgiving – with the Dow Jones Industrial Average tumbling 154 points to close at 10309.92.
Instead of buying stocks, traders sold them as they tried to come to terms with news that Dubai World, a huge conglomerate, was asking lenders to give it some breathing room on paying the interest on about $60 billion in debt.
The Dubai news rattled stock markets around the globe, with some exchanges losing as much as 5 percent of their value. In the case of the Dow, it could have been worse – the market started off Friday morning with a 224-point drop.
If anything, the Dubai news reminded optimistic investors that financial problems continue in the wake of the economic turmoil of the past two years.
"We should not have thought we were past all this," says Douglas Elliott, a fellow at the Brookings Institution in Washington, a think tank. "There will be some further problem. For example, we know smaller banks have a lot of losses in real estate."
---