Why debt at Dubai World is shaking world financial markets
As conglomerate Dubai World delays debt payments, most analysts look for Arab Monetary Fund to step in to avert a crisis in financial markets. That's not likely, though, until Sunday.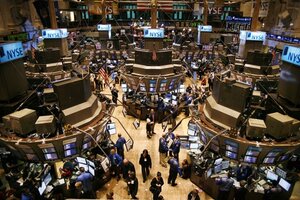 Peter Morgan/AP
How can Dubai, a tiny emirate on the Persian Gulf, shake financial markets from Shanghai to New York?
The answer is familiar to tens of thousands of Americans struggling to make payments on their mortgages or credit cards: too much debt.
On Thursday, Dubai World, a conglomerate, shook world financial markets by asking for a six-month moratorium on paying interest on debt estimated at between $60 billion and $90 billion. Immediately after the announcement, Asian equity markets swooned by 3 percent to 5 percent. The selling continued on the London market, which then recovered in afternoon trading. On Friday, the Dow Jones Industrial Average opened off about 224 points and then started to climb back on a shortened, post-holiday trading day.
The problems in Dubai brought back memories of the near financial collapse that beset the US and Europe after the mortgage meltdown. That collapse led to the worst recession since World War II. On Friday morning, there were indications that some investors had pulled out their meltdown road map: They were buying US Treasury bills in a flight to quality. This drove the US dollar higher and brought down not only the stock market but also the price of gold and oil.
---