Obama's job summit challenge: creating jobs on a budget
President Obama's job summit this week brings together CEOs and economists to brainstorm on how to bring down the unemployment rate. The challenge: creating jobs while trying to control record deficits.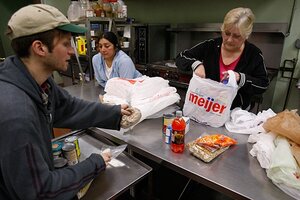 Carlos Osorio/AP
President Obama is slogging through difficult terrain by holding a so-called "jobs summit" this week. More than 15 million Americans are looking for work, a record number in more than six decades of Labor Department tracking. But government efforts to create jobs will cost money at a time when federal budget is soaring into its own record territory.
Mr. Obama can't avoid either of these issues – the unemployment or the deficits.
Officially, the jobs forum is a chance for him to seek ideas and consensus from business leaders about what can boost hiring. But in the build-up to the meeting, it's become clear that the White House is also trying to figure out how to balance these challenges – how to create jobs on a budget.
Most forecasters expect the economy to start adding jobs next year, but not at a strong enough pace to bring the unemployment rate down sharply from the current 10.2 percent. With that as a backdrop, Obama may support tax credits or other programs to designed to spur hiring. But he'll also be watching the price tag, in part because polls show Americans to be worried about what rising federal deficits will mean for future prosperity and for their own pocketbooks.
The attendee list for Thursday's jobs forum includes the CEOs of Google, Comcast, Boeing, Disney, and FedEx, as well as labor leaders and prominent economists.
---