As foreclosures rise, states struggle to combat mortgage scams
Mortgage scams proliferate as desperate homeowners try to avert foreclosures, pushing state lawmakers into action.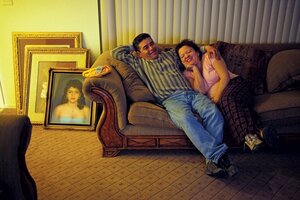 Jae C. Hong/AP
It was one year ago that home-owner B.L. Davis began to have trouble paying his mortgage.
A medical problem, followed closely by his furnace giving out, depleted his savings and left him unable to pay the $1,900-a-month mortgage on his roomy brick house with a big pool and a neatly landscaped yard.
His answer: a California company that pledged to get his mortgage loan modified. In return, the firm wanted nearly $2,000 upfront, and a seemingly affiliated debt-relief group asked for another $1,000. Desperate, Mr. Davis paid up.
The story ends with Davis getting nothing in return for his $3,000, and instead needing to borrow $14,000 to save his house two days before it was to be sold at auction.
"I've still got my house, but now I'm worse off because my credit has drastically been affected, and now I've got an extra loan," Davis says.
Davis's story has become part of a national parable. With the downturn in the housing market, scams promising to stop foreclosures or modify loans quickly are growing. This year, the FBI expects to track an estimated 174,000 reports of suspicious activity for mortgage-related fraud cases – a 276 percent increase over 2008.
States are responding. Michigan has promised to refund residents duped by several foreclosure scams. In October, Delaware approved a law that bans companies from charging an upfront fee for promises to modify a loan or forestall foreclosure.
The federal government, too, is considering action. Sen. John Kyl (R) of Arizona has cosponsored a bill that would protect home buyers from fraudulent practices and provide $200 million for states to combat scams. President Obama created a federal task force Nov. 17.
---