Exit of GM's Fritz Henderson: Four messages
The unexpected departure of GM CEO Fritz Henderson signals the board's impatience with the pace of change – especially compared with Ford.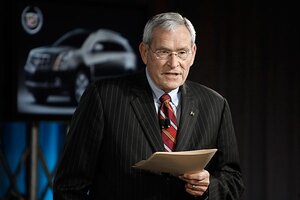 Paul Sancya/AP
The surprise departure of Fritz Henderson as the top executive at General Motors (GM) leaves no doubt: Times are changing fast in Detroit. The move comes as GM has exited from a government-assisted bankruptcy, but still owes taxpayers billions of dollars.
Speed was the watchword for GM Chairman Ed Whitacre, as he announced Mr. Henderson's resignation after just eight months as chief executive officer. He praised the outgoing chief executive officer but said, "We now need to accelerate our progress."
Mr. Whitacre stepped into the role of interim CEO while the board searches for a new chief executive.
The move sends some important signals:
1. Rival Ford is winning with its outsider-as-CEO strategy.
Whitacre, who came to GM from a career building a telecommunications empire, didn't point to Ford directly, but Detroit's story of the year is that GM's long-time rival has been moving more nimbly through recession. Ford's sales are down 18 percent this year, compared with 2008, but GM's sales volume is down 32 percent. Ford has even done better, by that measure, than Toyota, Honda, or Nissan.
This is two years after Alan Mulally came from aircraft maker Boeing to lead Ford – at a time when some analysts saw the company as more troubled than GM.
Many analysts are expecting Whitacre to look for someone from outside GM, and possibly from outside the industry. (Mr. Henderson was a quarter-century employee of the auto giant.) It's not just because of Ford's success, but because of Whitacre's statement that GM hasn't been moving fast enough. An outsider might have an easier time coaxing cultural change at the company.
---