Just 11,000 jobs lost in November: a sign of improved job market
The US economy lost 11,000 jobs in November, far less than the 125,000 expected losses. Will a jobs recovery gain momentum faster than many economists thought was likely?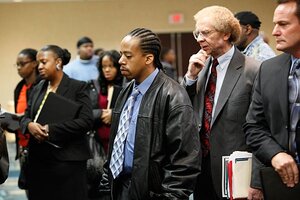 Matt Rourke/AP
For the first time in two years, the US economy came tantalizingly close to posting a monthly gain in jobs.
Employer payrolls fell by just 11,000 workers in November, much less than economists expected, according to a Labor Department report Friday. Also, the unemployment rate fell modestly, from 10.2 to 10 percent.
Although the monthly numbers still show job declines rather than gains, the job market is moving convincingly in a positive direction.
The report suggests that net gains in jobs might begin in the next few months or even weeks.
At a time of high unemployment and consumer pessimism, it raises the question: Could a jobs recovery gather momentum faster than most forecasters expect? Could it even become what's known as a "V"-shaped recovery in jobs – with the gains coming out of recession mirroring the scale and pace of the losses during the recession?
Many economists, after all, had been expecting about 125,000 jobs lost for the month.
"This was the best jobs report, payrolls-wise, since December 2007," says Ken Mayland, president of the research firm ClearView Economics near Cleveland. "It says that job gains are in sight pretty quickly."
Most economists bullish on job growth for 2010
Some forecasters, in fact, expect something akin to a V-shape jobs recovery in the next year.
Mr. Mayland sees the economy adding about 1.5 million jobs next year, a decent pace but one that wouldn't fill much of the 7-million job hole created by the recession.
---