Why is Obama at Home Depot? To get cash for caulkers going.
President Obama's stop at Home Depot shows that if 'cash for caulkers' is going to get off the ground, the government has to get at least three groups to buy in.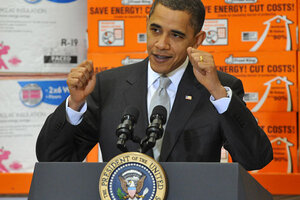 Ron Sachs/UPI
President Obama's stop at a Home Depot in northern Virginia on Tuesday was another step toward building the wide-ranging coalition he needs to build if he wants to realize his plans for a "green" jobs push. The Home Depot stop was in conjunction with a meeting between labor, manufacturing and small-business leaders the same day.

His program, which would be formally dubbed Homestar but called in some circles "cash for caulkers," is aimed at spurring homeowners to retrofit their homes with energy-efficient technologies. The White House aims to offer $23 billion in incentives for everything from weatherization to new doors and windows.
These enticements will only work, many analysts believe, if the package can appeal to contractors and retailers as well as homeowners.
First, retailers need to have some incentive to stock energy-efficient appliances above and beyond current demand, advocates say, in order to make sure consumers have solutions close at hand.
Second, homeowners need to have a sweetener – such as government paying up to half the cost – to buy the appliances, which are often more expensive than conventional models. If customers can't make that first, straight-forward step toward energy efficiency, they won't move on to larger projects, says Larry Zarker, CEO of the Building Performance Institute,.
---