Free Shipping Day 2009: For small firms, free shipping today is huge boon
On Free Shipping Day 2009, small businesses get a boost usually reserved for big retailers through a concerted free shipping push.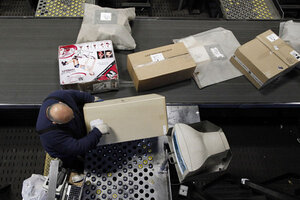 Brian Kersey/UPI/Newscom
On Cyber Monday, it was the big retailers that got their due. On Free Shipping Day 2009, the little guys get in on the act.
"This is something for small businesses," says Luke Knowles of FreeShipping.org, the group organizing Free Shipping Day. "In the current state of the economy, a lot of companies could use a day like this that might equal three or four days of sales throughout the rest of the year."
As of Thursday morning, there were more than a few well-known brands among the 729 merchants offering free shipping that will arrive on shoppers' stoops by Christmas. Nike, Adidas, Levi's, and nutrition and supplements brand GNC all have free shipping deals.
But it's the profusion of small retailers that makes Free Shipping Day unique.
"It's a nice marketing opportunity when you can participate in a marketing option that doesn't have to do with the size of your wallet but the size of your brain," says Kim Dow, who runs Bear Hill Sports in Charlotte, Vt.
Ms. Dow – who "has one employee and four kids" – says that beyond the actual sales figures generated Thursday, the exposure Bear Hill has already gotten in terms of web traffic from the Free Shipping site is a huge help.
---