Vinny Cerrato out, Bruce Allen in. What financial havoc did Cerrato wreck?
During his nearly decade-long tenure, Vinny Cerrato presided over some good draft picks and signings – but his legacy is a stream of overpayed and underperforming duds.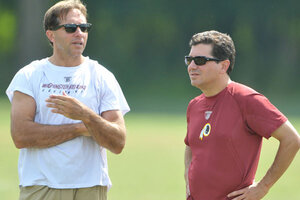 Ron Sachs/CNP/Newscom
Vinny Cerrato's resignation as executive vice president of football operations for the Washington Redskins elicited an overwhelming schadenfreude from the battered fans of one of the NFL's flagship franchises.
"If only there was a statue of Cerrato we could yank down," tweeted Maryland-based writer Mark Newgent.
Cerrato's tenure with the Redskins saw quite a few successes. He drafted the late great safety Sean Taylor and pulled All-Pro tight end Chris Cooley from the 3rd round rough in the 2004 NFL Draft. He traded for stalwart wideout Santana Moss in 2005 and signed middle linebacker London Fletcher in 2007.
And it's not hard to imagine that some of the angst directed at Cerrato was a general ill will toward Redskins management, which has much to do with the owner, Daniel Snyder,
But professional football is a business, in the end, in which managers must attract the best talent at the cheapest cost. In that light, Cerrato's tenure will be remembered by a string of high-profile busts and vapid drafting strategy that ended with overpayed and underperforming duds. Here are the three ways that Cerrato not only made the Redskins a poor on-the-field product but expensive as well:
---
Follow Stories Like This
Get the Monitor stories you care about delivered to your inbox.