Iranian hacker attack: What will it cost Twitter?
Hacker attacks cost public companies $1.6 million in lost share value. For Twitter, it's the firm's reputation that's at risk.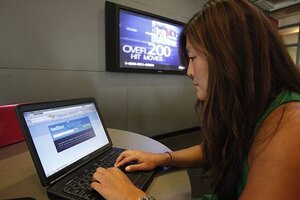 Damian Dovarganes/AP/File
Thursday night's cyber attack against the Twitter microblogging service was no routine assault to bring down a website. It was a sophisticated online blitz –perhaps part of an online Iranian cybercampaign – that could prove costly for social media networks.
Unfortunately, such attacks are expected to escalate around the globe.
"There is an arms race in cyberspace occurring today," writes Ron Deibert, a cyberwarfare researcher at the University of Toronto, in an e-mail. "The United States, Russia, and China all have adopted operational doctrines in cyberspace that include computer network attacks such as these. In such a climate of intense militarization, I believe attacks such as these are going to become more common. Services and platforms like Twitter, Youtube, and Facebook will be regularly targeted for filtering, denial of service attack, defacement, and targeted espionage – as they have already with increasing frequency from China to Iran to Russia and Pakistan."
Most computer attacks are relatively straightforward denial-of-service attacks, where computers overwhelm a website with data to bring it down. Thursday night's attack against Twitter was more serious because the hackers gained access to part of Twitter's network and were able to redirect users to a page with a photo of a flag with Farsi script. Near the top of the page ran a bold red headline in English: "This site has been hacked by Iranian Cyber Army."
---