David Tepper and Co.: Which traders profited most from the downturn?
David Tepper reaped $7 billion in profit for his firm by scooping up bank stocks at their nadir. How does that stack up with other lucrative moves?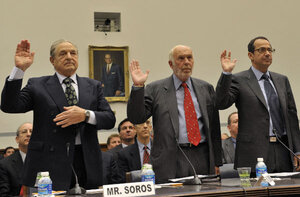 Yuri Gripas/UPI/Newscom/File
David Tepper wasn't the only person who turned the economic downturn into an unbelievable windfall. But few made a bigger splash than he did with the $7 billion profit he made for his firm or the $2.5 billion he earned for his personal portfolio in 2009.
Mr. Tepper did it by scooping up the stock of crisis-battered financial institutions like Citigroup and Bank of America when they drooped to a few dollars (or in Citi's case, under a dollar) per share early this year, according to the Wall Street Journal. He bet – correctly – that the federal government wouldn't let them go the way of Lehman Brothers.
How does that compare with other supertraders? Here's a look at the three highest-paid hedge-fund managers of 2008 and their strategies to rake in big profits that year.
At the top of the list is James Simons of Renaissance Technologies Corp., who pulled in $2.5 billion in 2008, according to Alpha Magazine in March. Mr. Simons generated an eye-popping return of 80 percent through rapid-fire trading, an approach driven by sophisticated computer models and raw technological power to rapidly capitalize on opportunities. That return is a must given Simons' industry-leading fees of 44 percent on profits and a 5 percent management fee.
---