Arrow Trucking: Drivers band together to help those dumped by Arrow
After seeing their colleagues stranded by Arrow Trucking, truck drivers and companies reach out to help.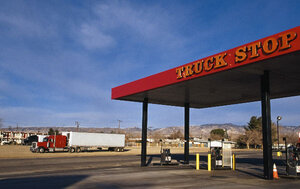 Newscom
[Editor's note: This story was updated at 12:45 a.m. Thursday.]
For Arrow Trucking drivers like Jenn Cruthis, it was the worst of times.
The Tulsa, Okla., company wouldn't pay for simple repairs on her first truck. So Ms. Cruthis used $787 of her own money to get a second truck back to Arrow Trucking headquarters about a week ago. Mechanics sent her home: They wouldn't be fixing her truck until after the New Year for lack of funds, they said. As she was driving home to Georgia, she got a call telling her to come back.
The next morning, Arrow Trucking suspended its operations, shuttered its Tulsa headquarters, and shut off its fuel cards, leaving some of its 1,400 or so drivers stranded around the country with no fuel to get back home. Now back in Macon, Ga., Cruthis and dozens of other truckers have banded together to help their stranded bretheren.
"The way these truckers are getting out there and helping each other is amazing," Cruthis says. "They'll sit on the radio and curse at each other all day and fight all day and then for them to stand up and help everybody like this? It's great."
---