World's tallest building: Is the Burj Khalifa a herald of economic woe?
The world's tallest buildings usually open when the economy has crashed, just like Monday's opening of the Burj Khalifa in Dubai.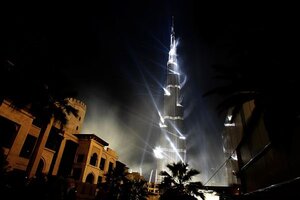 Ana Marin/Reuters
The world's tallest building opened Monday in Dubai – known as the Burj Khalifa, it's an exuberant architectural triumph in the middle of a deep economic swamp.
It's often that way. The tallest skyscrapers always seem to pop up just as the economy is headed down.
The Singer and Metropolitan Life buildings were under construction in New York when the Panic of 1907 hit the United States. Construction of the Chrysler and Empire State buildings heralded the start of the Great Depression.
A sour economy accompanied the opening of the Sears Tower (the mid-1970s downturn) and Malaysia's Petronas Tower (the Asian financial crisis). The phenomenon happens so often it has a name: the skyscraper index (click on chart above). [Editor's note: This paragraph was changed to show the correct location of the Petronas Tower.]
So along comes the Burj Khalifa, until today known as the Burj Dubai, which could signal the reach of the "great recession" or point to Dubai's more recent economic woes.
---