Nexus One challenges iPhone, but market's more than big enough for two
Google's Nexus One, Apple's iPhone, and Blackberry are three huge fish in the smart-phone sea. But there might be room for even more than those three.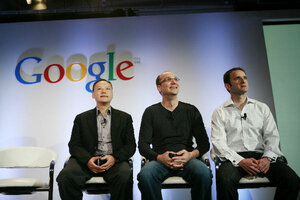 Robert Galbraith/AFP/Pool/Newscom
Google's Nexus One has plenty of bells and whistles to make iPhone and Blackberry users sit up and take notice.
But far from being an epic confrontation for dominance of the smart-phone (or "superphone," in Google's new parlance) universe, 2010 may instead be the year of uneasy coexistence, as an explosive market allows all three platforms to prosper going forward.
"There's plenty of room for everybody to grow in this space, and there's a lot of diversity in opinion here," says Ken Dulaney, an analyst with technology research firm Gartner. Here are the stats to back that prediction up.
By 2012, Gartner predicts that American smart-phone sales will reach 525 million, making up half of all cellphones sold, ample space for multiple brands to thrive.
That doesn't mean there won't be some near-term friction.
In the next three months, 20 percent of Americans plan to buy an iPhone. A surging 17 percent aim to purchase an Android product, according to a December report from comScore, a technology research firm. While the iPhone's numbers have remained largely stable, Google's Droid has exploded onto the scene since its introduction a few months ago.
---