Haiti earthquake 2010: When disasters hit third world, speed up your donations
Developing nations typically don't have emergency supplies stockpiled for disasters like the Haiti earthquake.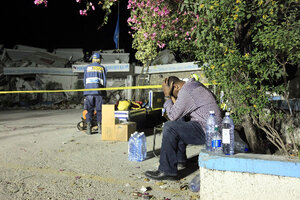 Xing Guangli/Xinhua
The divide is as stark as can be: In the developed world, the economic cost of natural disasters is rising as the human toll falls. In the developing world, the fatalities remain unacceptably high.
That's why, when a disaster hits the developing world like the Haiti earthquake of 2010, donors have to shift their giving strategy. If you want to give, give now.
"It is important to give quickly in the Haitian quake because that nation does not have the resilience of prosperous developed nations," says Richard Sylves, a professor of political science at the University of Delaware. "Responders will have to attack the devastation with military zeal. Medical workers will have to be largely self-supportive as they will have to import the vast majority of the equipment and supplies they need to provide even elemental emergency medical aid."
There are many places to give that are organizing this emergency response. The trick is to give to groups that can distribute the aid most effectively.
"The question is whether we can get it to people, given the poor infrastructure," says Carol West, director of the Center for International Business Education & Research at the University of Florida.
---