Obama proposes fee on big banks. But who would really pay?
The bankers should pay, Obama says. But some think the money would come out of shareholders' pockets, and others say the big banks would pass it along to consumers and businesses.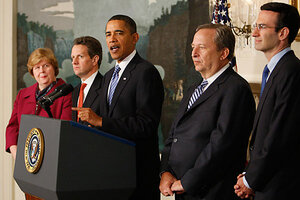 Charles Dharapak / AP
On Thursday, President Obama proposed a new fee on banks to cover $117 billion in expected losses in the Troubled Asset Relief Program (TARP).
But who would really pay the Financial Crisis Responsibility Fee?
Some bank analysts believe the money would come out of shareholders' pockets, which could make bank stocks look less appealing. Bank lobbyists, meanwhile, say any new fee would get passed right along to businesses and consumers. But Mr. Obama says the cost of the fee should be swallowed by the bankers themselves – many of whom are about to receive large bonuses.
"I'd urge you to cover the costs of the rescue, not by sticking it to your shareholders or your customers or fellow citizens with the bill, but by rolling back bonuses for top earners and executives," Obama said in announcing the plan.
Despite the president's plea, bank lobbyists still say the proposed fee is likely to be passed along to consumers and businesses. The lobbyists have quickly labeled the plan, which Congress must vote on, a new tax.
"Taxes, like all other operating expenses, are included in the pricing structure," says Scott Talbott, chief lobbyist at the Financial Services Roundtable in Washington, which lobbies for the 150 largest financial-services firms. "It could put upward pressure on goods and services, hitting consumers, business, and other banks."
---
Follow Stories Like This
Get the Monitor stories you care about delivered to your inbox.