'Cash for Caulkers' aims to make Americans greener at home
The White House and business leaders team up to craft a program to encourage energy efficient home improvements.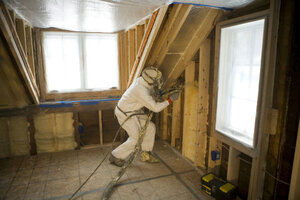 Melanie Stetson Freeman/Staff
Latasha Pittman's life was becoming one no after the other.
No job. No way to get by without welfare for herself and five children. And, increasingly it seemed, no way out.
Then Ms. Pittman took an unexpected turn. She enrolled in a three-week home-retrofitting training program and now is pounding down door sweeps and sealing windows to make homes more energy efficient in and around her hometown of Mendenhall, Miss. When her government assistance runs out in March, she won't need it anymore.
"I never thought that I would be able to afford [health] insurance," says the former nurse's assistant. "This program made it possible for me and my family to strive on our own."
It's part of what green-sector business leaders call the "triple win" from a national home-retrofit proposal. By making American homes more energy efficient, the program would create more jobs, offer energy savings to consumers, and lower carbon emissions. The Obama administration has teamed up with green-sector entrepreneurs to craft a vision for a program that Congress could enact later this year. Officially, the plan is called Home Star, but it's also quickly becoming known as "cash for caulkers."
Despite its simple appeal, the plan faces a number of practical hurdles.
During a late December lunch with business leaders to discuss the proposal, President Obama asked that the end document be "simple, quick, but effective," said Steve Cowell, CEO of Conservation Services Group in Westborough, Mass. For Mr. Cowell and other energy-saving proponents, that means grappling with two tough challenges: how to get homeowners to buy into the program and how to build a nationwide industry, complete with training and accreditation, from a disparate collection of state and local programs.
Two kinds of subsidies
---