Moms a-Twitter over Graco's stroller recall response
Moms connect with Graco Baby using Twitter to get information on the Graco stroller recall quickly.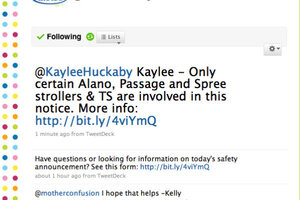 Screen Capture
When Kylee Pierce, a stay-at-home mom of two in Meriden, Conn., heard about Wednesday's Graco stroller recall, she went looking for the model number on her Graco stroller. When she couldn't find it, she asked the experts – by messaging Graco's Twitter account.
From finding the serial number to determining whether Mrs. Pierce's stroller qualified for the recall to offering links where she could order the proper repair kit, Graco's twitterers helped Pierce from step to step.
"It was fantastic," she tweeted to the Monitor. "My 1st experience interacting with a company like this. That Kelly," Graco's Twitter minder, "was helpful and prompt!"
Strategically, Graco hit all the right notes, says Ana Roca Castro, a mother of four who runs Premier Social Media, a consulting group.
"The whole point of social media is being there at the time of the crisis," Mrs. Castro says. "Before people even started complaining, they were there."
Not all companies are so nimble. During a recall of 1 million Maclaren strollers in November, the company's Twitter feed blasted out times and dates for distribution of stroller-repair kits but didn't take questions from consumers. Tylenol's recent struggles with public relations after a recall of various products also highlights a company wrestling with how best to reach customers when something goes wrong.
---