Unemployed for six months or more – and still looking for a job
The number of long-term unemployed – 6.1 million – is the most since the US started keeping track in 1948. Here is a look at some of these people as they search for a job.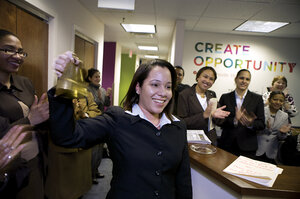 Melanie Stetson Freeman/STAFF
Over the past two years and four months, Denise Sims-Bowles has sent out 273 résumés – each of them tracked on a spreadsheet on her computer.
But the resident of Pasadena, Calif., who has more than 20 years of work experience, has yet to land a position in the soft Los Angeles job market.
"It's not that I don't have skills," says Ms. Sims-Bowles, whose job entailed taking everyday tasks and automating them. "I look for a job every day, and every day I have the door slammed – hard. To be honest, it's hard to remain positive."
Sims-Bowles is one of the long-term unemployed, a group that has been growing every month since at least late 2007. These individuals have been out of work so long that it's hard for them to explain to potential employers why they are still pounding the pavement. Many have exhausted their connections, and, like Sims-Bowles, they're getting doors slammed in their faces.
Many of them have resigned themselves to jobs with lower pay and responsibilities – or they've dropped out of the workforce entirely because they are convinced there is no job for them.
"It's one of the riskiest byproducts of this recession – that we may have a segment of the workforce who may feel so disconnected and forgotten that they feel like there is nothing out there for them," says John Challenger, chief executive officer of Challenger, Gray & Christmas, an outplacement firm in Chicago. "These are productive people who have been put into some kind of space where they are outside in the cold and cannot get back in."
---