Market dive means it's retirement crunchtime for boomers
Nearing retirement, they have little time to recover from the drop in stocks and housing. Here's how they're coping.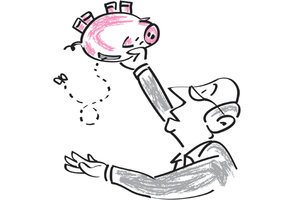 John Kehe/Staff
The leading edge of the baby boomers – the postwar generation that led the way on everything from war protests to yuppiedom and two-income families – is about to experience another first: postcrash retirement.
With the first wave of boomers turning 64 this year, they have little time to make up their losses from the recent debacle of stocks and housing. Not since the late 1930s have workers on the cusp of retirement faced such a big one-two punch.
So how are they handling it? Not well. It's almost become a cliché to say most boomers haven't saved enough for retirement. Nearly a quarter of those who turn 50 this year say they haven't even started saving, according to a poll in January. Here's the surprising part: According to some experts, even those who have managed to stash away some savings must be careful not to invest the money too cautiously.
With life spans increasing – and many boomers dreaming of active retirements, among other factors – some advisers suggest that near-retirees keep a sizable holding in stocks. The old adage – subtracting one's age from 100 to get the proper stock allocation – just doesn't apply anymore, this camp believes.
"There's a new view coming along" that recommends "a fairly consistent asset allocation as you grow older, or even an increase in your equities" portion, reports Stephen Brown, finance professor at New York University's Stern School of Business. "Anywhere from 60 percent to 40 percent in equities would be appropriate for all age groups [but not the highly risk-averse], especially the newly retired."
Stock losses averaged 16 percent
But wait! This is postcrash 2010. Boomers lost a chunk of their 401(k) savings – an average 16 percent between the end of 2007 and June 2008, according to Mercer – because they invested in stocks (see fact box). Why should they trust stocks now?
---