Toyota recall: As firms go global, so do their glitches
Toyota's mounting recall woes show the downside of worldwide supply chains.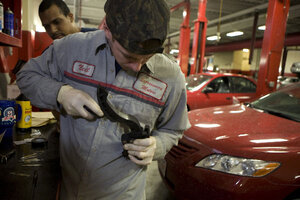 Melanie Stetson Freeman/Staff
You don't get much more "made in America" than the Chicago Telephone Supply Co. Founded in 1896 in the Windy City and later moved to Elkhart, Ind., it started corporate life by selling phones to rural Americans.
More than a century later, CTS, as it's now known, produces a wide range of made-to-order products for Hewlett-Packard, Cisco Systems, Raytheon, Ford – and Toyota.
Last month, the Japanese automaker pointed to a faulty CTS accelerator mechanism as the reason for the recall and suspended production at its North American facilities for the week of Feb. 1. Toyota's problems have since mushroomed, with the federal government looking into broader quality problems. On Feb. 4, under pressure from the Japanese government, Toyota acknowledged a software glitch that caused braking problems in its made-in-Japan Prius hybrid.
Welcome to the dark side of globalization.
---