New credit card laws 2010 still have 'gotchas.' Here are five steps to avoid them.
The most sweeping reforms of President Obama's new credit card laws went into effect Monday. But consumers must take these steps to avoid the 'gotchas.'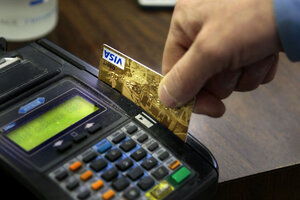 Ciro Cesar/La Opinion/Newscom
New credit card laws taking effect Monday will protect consumers from much of the confusing language, ever-increasing interest rates, and frequent fees that have historically been the credit-card industry's bread and butter.
But the Credit Card Accountability, Responsibility, and Disclosure (CARD) Act isn't foolproof. Here are five steps to protect yourself from the loopholes and realize the maximum benefits of the new law:
1. Pay more than your minimum.
The new regulations mandate that credit-card companies must apply customers' payments to the charges with the highest interest rates first. This will help consumers pay down their balances faster and with lower interest charges.
But that protection only applies to payments made over the minimum payment due. Credit-card companies are still allowed to take the amount of your minimum required payment and apply that just to interest charges or charges with the lowest interest rates first. To realize the full benefit of this reform, cardholders must make payments over their minimums.

2. Look out for changes in the coming months.
In response to the CARD reforms, credit-card companies will be experimenting with new revenue streams to make up for the old ones lost through regulation.
"The credit card companies have had to completely redesign their business models," says Nessa Feddis, vice president and senior counsel of the American Bankers Association (ABA). "At the end of the day, revenue has to exceed expenses – it's basic economic theory."
This means consumers could see new or increased annual fees, inactivity fees, or balance transfer fees, among others. In fact, credit card issuers have established or expanded the use of at least eight hidden charges across more than 400 million accounts, according to a recent report by the Center for Responsible Lending.
---