Obama's Homestar program: Energy retrofits could take a while
President Obama announced a $6 billion Homestar program to fund energy-efficient retrofits of US homes. But most contractors will need training to achieve the program's loftier goals.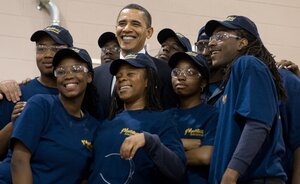 Saul Loeb/AFP PHOTO
President Obama announced a $6 billion program Tuesday to help improve the energy efficiency of American homes.
He hopes the new Homestar program will reemploy workers in the hard-hit construction industry, offer environmental benefits, and rack up energy savings for US consumers.
But it may take a while before the program swings into action, especially its more far-reaching elements. For one thing, the program requires congressional approval. Homestar advocates say the program has bipartisan support, but they decline to predict when Congress will act.
For another, the infrastructure is still being developed to realize the full benefits that Mr. Obama envisions, advocates say.
"I'm convinced that the country that leads in clean energy is also going to be the country that leads in the global economy," Mr. Obama said, speaking from the Savannah Technical College in Georgia. "I want America to be that nation."
The problem: There's not enough trained personnel to tackle the more sophisticated pieces of Homestar (named after Energy Star, the government's popular energy efficiency labeling system).
With unemployment rates around 25 percent, the construction industry has a large pool of skilled workers anxious to get to work. They'll be able to handle the first level of retrofits, known as silver star.
Silver star will consist of rebates of 50 percent of the cost for simple upgrades – new insulation, duct sealing, or water heaters, for example – ­for a total of up to $1,000 or $1,500.
The gold star level will take more training. Under gold star, contractors evaluate the entire house, recommending a wide suite of improvements to realize 20 percent energy savings. If consumers achieve that, they can get a $3,000 rebate plus additional amounts for any energy savings above 20 percent.
---