Who's creating US jobs? Mexicans.
Fed up with violence in Mexico, entrepreneurs are moving north. That means the US is seeing the benefit from the businesses they start.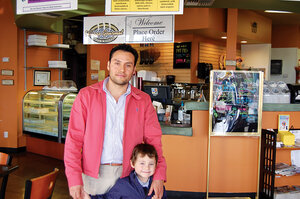 Taylor Barnes
For Pierre Gama, the fourth kidnapping was the final straw. Armed carjackers made him drive his car in circles until he gave them the numbers to his credit cards. With two small children and a wife – who was with him during one such secuestro express – the security entrepreneur wanted out of Mexico City.
Mr. Gama proposed moving to Canada, but his wife said it was too cold there. So he opted for an escape route a growing number of his wealthiest countrymen are taking: He bought his family's way into the United States by spending about $200,000 on a San Antonio restaurant and catering business.
It's perfectly legal. Immigrants can bring in family on an EB-5 visa if they invest $500,000 to $1 million in a US business. Mexicans have a cheaper deal via E-1 and E-2 visas, thanks to a treaty with the US. Gama took a similar tack, buying Village Gourmet and transferring himself to the US as its new executive via an L-1 visa, designed for intercompany executive transfers.
"The misfortune for Mexico [is the] fortune for the United States," says Irene Kegan, executive director of the Mexican Business Association in San Antonio.
As Mexico's drug wars escalate, businessmen and families have become a natural target for traffickers looking to extortion to finance their operations, says Art Martinez de Vara, a San Antonio-based immigration lawyer. Some 17,000 people have been killed in drug violence since President Felipe Calderón took office in December 2006 and vowed to take on the drug traffickers.
---