Germans to debt-ridden Greeks: Sell the Acropolis. And a few islands.
Two German MPs have kicked up a furor in the Greek debt crisis by suggesting that Greece sell venerated icons such as the Acropolis as well as uninhabited islands.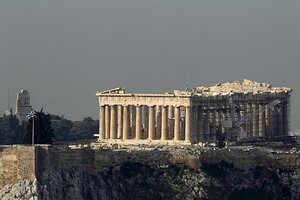 Yiorgos Karahalis/Reuters/File
Greece's tourism slogan is "a masterpiece you can afford." But when they coined the phrase, they were probably not thinking of selling Greek islands at cut-rate prices.
As Prime Minister George Papandreou heads to Germany tomorrow to ask German Chancellor Angela Merkel for help in the Greek debt crisis, two members of her coalition have some advice: sell off your islands to pay off your debt.
The comments, by two members of the German parliament, were published in the German newspaper Bild under the provocative headline: "Sell your islands, you bankrupt Greeks! And sell the Acropolis too!" One parliamentarian, Frank Schaeffler, told the newspaper, "the Greek government has to take radical steps to sell its property – for example its uninhabited islands."
IN PICTURES: Top 10 things Greece could sell.
With Communist-party affiliated unionists occupying the Ministry of Finance and gray-haired pensioners scuffling with police outside his office, Mr. Papandreou may feel he's been radical enough. Speaking to Greeks yesterday after a raft of new austerity measures were announced, he said that with the tough measures, Greece had done its part and that now it was time for Europe to come to the country's aid.
---