February jobs report: 36,000 jobs lost, but mostly a holding pattern
The February jobs report showed the unemployment rate steady at 9.7 percent and 36,000 jobs lost. Hiring may get a boost in March.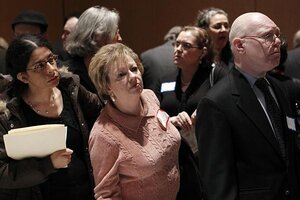 Shannon Stapleton/Reuters/File
The February jobs report shows American businesses have just about ended the firings, but they haven't yet started hiring.
The US economy last month shed 36,000 jobs, and the unemployment rate held steady at 9.7 percent, the same as in January, the Bureau of Labor Statistics (BLS) reported Friday.
But March may be looking up. Many economists foresee a gain in the number of jobs, in large part because the US Census Bureau is expected to begin hiring people to help with the 2010 census. It's less certain that private businesses are starting to add many workers to their payrolls; that is not likely to happen until summer.
The White House viewed the report in positive terms. Christina Romer, chair of the Council of Economic Advisers, called it "consistent with the pattern of stabilization and gradual labor market healing we have been seeing in recent months." She also took heart that the number of workers unemployed for more than six months fell by 180,000, the first decline in a year.
Snow storm impact minimal
February's job losses were fewer than many forecasters had expected, given the general slowdown caused by huge snowstorms in parts of the nation during the survey week. Although many workers may have not been able to get to their jobs, they were counted as having a job if they received any pay during the week of the survey.

---