Toyota recall: More sudden acceleration complaints even after fixes
Toyota owners have filed more than 60 acceleration complaints since having recall work done, news reports say.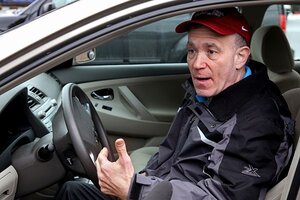 Craig Ruttle/AP
Toyota faces a new source of potential trouble: Its efforts to fix recalled cars may not be working.
The problems still need to be verified, but complaints arriving at the US National Highway Traffic Safety Administration (NHTSA) suggest that cases of unintended acceleration are occurring even in cars that have had a recall-related fixup.
In complaints filed with the NHTSA, multiple owners of fixed Toyota vehicles have reported new problems with acceleration.
One owner of a 2009 Matrix said that on Feb. 26, about two weeks after a dealer had done recall work on her brakes and gas pedal, she tapped the brakes while going about 5 miles per hour in a parking area and "felt the car push forward."
"It's doing it again, Mom," the filer of the complaint describes her son saying. She said she put the car in neutral and then "heard the engine wind out like I had pushed the gas pedal to the floor." The driver was given a loaner car while the problem is sorted out, but she is not alone.
The possible problems may span a range of Toyota models.
The owner of a 2006 Toyota Avalon complained of unintended acceleration while backing up to park on Feb. 28. The car hit another vehicle, resulting in bumper damage. Recall work had been done 11 days earlier, to install a metal shim under the gas pedal, the complaint says. The driver put the car in neutral, and it "did not stop revving until it was turned off."
A 2008 Camry owner said her accelerator "stuck to the floor" causing the engine to rev while the car was on but unoccupied, on Feb. 14. Recall work had been done on the pedal and floor mat earlier in the month, the complaint said.

According to some news reports, more than 60 such complaints have been filed since acceleration-related recall work has been done.
---