How states rank: Federal spending driven by census data
The distribution of more than $400 billion in federal spending is determined by census data. An analysis released Tuesday looks at which states get the most money per capita.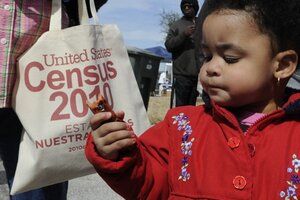 AP Photo/Pat Sullivan
In the weeks ahead, tens of millions of Americans will be asked to provide information for the US census.
For the states and the District of Columbia, the Census Bureau says, more than $400 billion in federal spending is at stake. (For more on the 2010 Census, click here.


So: Which states will benefit the most from an accurate census?


On a per capita basis, the answer is rural areas and places with a large poor population, according to an analysis released Tuesday by the Brookings Institution's Metropolitan Policy Program.


The following conclusion may be surprising to some: Politics does not appear to have played a large role in which states get more money. For example, the state of Nevada – which has high-ranking Democrat Harry Reid in the Senate – came in last in terms of per capita spending of federal dollars as related to census numbers.


"In general, politics does not enter in. Congress sets the formulas," says Andrew Reamer, a Brookings fellow who did the analysis. "Most states get their money based on numbers, which is why an accurate census is so important."


---
Follow Stories Like This
Get the Monitor stories you care about delivered to your inbox.